Travel information
Favourite destinations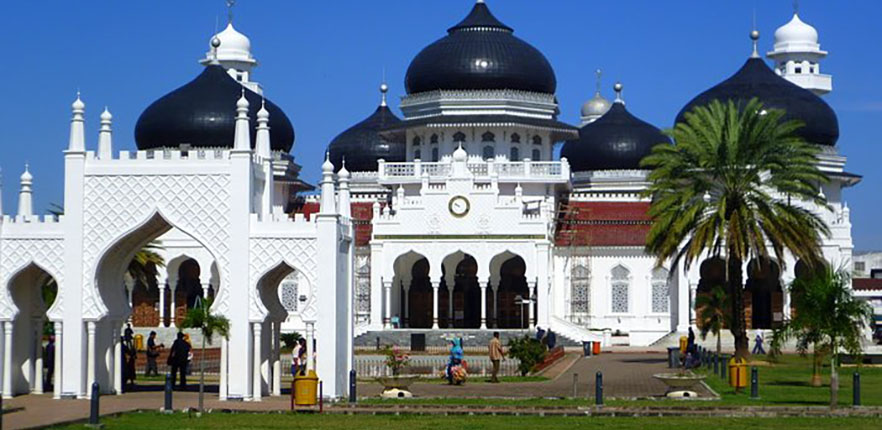 Banda Aceh
Located in the northern pole of Sumatra is the Banda Aceh - this place once called as the Kota Raja which had incurred a devastating tsunami in 2004 and is famous for its extremely harsh Islamic law: Sharia law. This is one of the least visited provinces in Indonesia, although visitors visited this land have experienced interesting and unforgettable tours. Many tourists go to Banda Aceh as a transit point to arrive Palau Weh. However, this place still has some attractions worth your time to linger:
Mesjid Raya Mosque is the first place you must definitely visit. The mosque is decorated with domes and beautiful traditional Islamic motifs. This is a favorite place for many photographers during the day or night. Note that you have to wear discreetly and women will have to wear a headscarf when visiting here.
Tsunami Museum is one of the top attractions in Aceh, which will show the tremendous natural disasters and how the city has recovered. This will be a particularly touching visit if you want to learn about the most difficult historical period of Aceh.
Warung Kopi Solong is also a place you can't miss when coming to Aceh, which is known for Aceh's the most delicious coffee and beer.
Or Negeri Banda Aceh Museum is also worth destination if you want to learn about the culture of Aceh.
If you want a more vibrant scene, Pasar Malam Rek is definitely the place to be visited because this is the most famous place for all night markets in Banda Aceh. When night falls, the stalls begin, and you'll find delicious things such as freshly baked satay, fried rice, and delicious noodles.
The Pulau Weh Island is seen as the hidden gem in the area that will be your anticipation place with great diving experiences. This is one of the top tourist destinations in Aceh for both foreign and domestic tourists if you are looking for a beautiful and quiet resort beach.
*****************************************************************************************************************************************
Some note when visiting Banda Aceh:
Alcohol: Because of Sharia law, alcohol is not available here as elsewhere in Indonesia, but some more expensive restaurants and hotels serve beer and wine more discreetly.
Due to the influence of Sharia Law, when visiting Aceh, remember to wear long sleeves and cover (at least) your elbows and knees.
You can fly to Banda Aceh from Kuala Lumpur, Medan or Jakarta. From Medan, you can catch a bus, but it's a long trip of up to 13 hours, cheap fares. It seems that aircraft is often a better option. It will take from 245 USD/one-way and from 250 US/round trip for Kuala Lumpur - Banda Aceh; from 294 USD/one-way and from 350 USD/roundtrip for Medan - Banda Aceh; and from 163 USD/one - way and from 326 USD/roundtrip for Jakarta - Banda Aceh, then Banda Aceh will be right in front of you in just a few hours flight.
Proud with so many attracting and interesting things to explore, Banda Aceh is truly a pleasant surprise for Sumatra. If you are preparing to travel to Sumatra, take Banda Aced to your trip list and BOOK NOW.