Travel information
Favourite destinations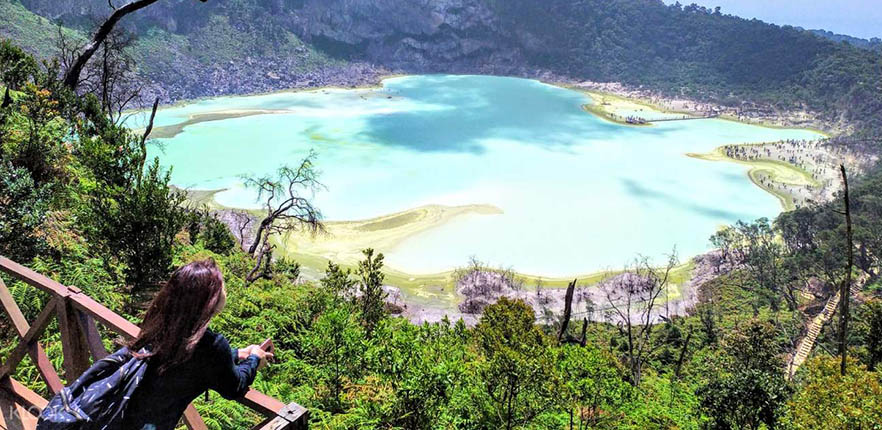 Bandung
When it comes to Indonesia, visitors often think of Bali - which is considered one of the paradises of Asian vacation. But this time, go to the land of ten thousand islands, temporarily forget the green beaches and resorts on the waves and try to climb the mountain and discover the charms of Bandung - one of the four most populous cities in Indonesia which is known for tea plantations and volcanoes, the perfect stop for those who like to go backpacking.
Owning spectacular natural beauty, peaceful space, this city is almost the perfect resort near the capital Jakarta. There are many unique things that you can only experience when you come here:
Driving around the activing Tangkuban Parahu crater is most enjoyable experience here. You will have the opportunity to admire beautiful landscape when walk around this giant crater. In addition, there is a shopping paradise here with rows of crafts shops, souvenirs and street food.
You also have the opportunity to relax with your family at Dusun Bambu - a very inspiring, wonderful, and truly remarkable landscape and try the unique cuisine on Dusun Bambu's hanging nests.
With clear blue water and spread white smoke, Kawah Putih will bring visitors pictures lively.
If you want to learn about Indonesian cuisine as well as have sightseeing and explore the culture of the people, then Lembang floating market is your ideal destination. This is considered a culinary center with a view of the lake where people are selling food on small boats.
A dinner between nature and melodious music at Kampung Daun will be a great idea for your date. You should eat in aka bungalow houses (perfect space for couples or a group).
Dubbed as the city of fashion, Bangdung cannot lack the local store chains (referred to as outlet). This place attracts not only international tourists but also domestic tourists visiting and shopping.
Finally, let witness the Saung Angklung Udjo Show. This is definitely the happiest place in Bandung with inspiring Angklung performances.
***************************************************************************
Some notes for your trip:
- The people in Bandung also use their hands to eat, however the eating places have hand wash so you should wash your hand before and after eating. If you are more careful, should bring a bottle of hand wash along with you.
- You can visit Bandung by plane to Bandung airport called Husein Sastranegara International Airport or bus / train from Jakarta to Bandung. However, the plane is the most convenient means while the fare is quite reasonable. The price for Jakarta - Bandung is around USD 229 (excluding taxes and fees).
- There are many ways to move around Bandung such as motorcycles, cars, buses / mini buses.