Travel information
Favourite destinations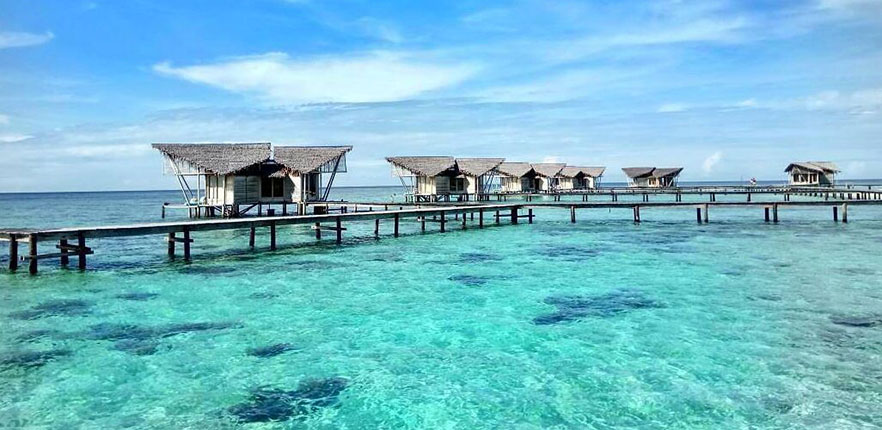 Gorontalo
Gorontalo is an Indonesian province on the Minahassa peninsula in the north of Sulawesi. Traveling to Gorontalo will bring visitors memorable moments because there are many beautiful beaches, diverse outdoor activities and rich natural landscapes here. Therefore, Gorontalo always attracts a number of tourists to explore and experience in recent years.
When visiting Gorontalo, you can not miss the picturesque beaches here: Oluhuta Beach offers a beautiful natural landscape with unexploited corals and great sunset in the afternoon.
If you want a beautiful and peaceful beach, Biluhu is the answer. This is considered a hidden paradise in Gorontalo. It only takes about 1 hour by road from the airport. This place is quiet, like a private beach with calm and quiet space, all day only has the sound of the waves. The underwater scenery is very beautiful, even just snorkelling from the beach. The hotel in Biluhu has only 3 cottages, directly facing the beach.
Botubarani Beach is also a worth place to visit. This cool place is next to the seascape, at this beach we can also see whales or sharks.
Beautiful islands and parks are also destinations that cannot be missed. It will be great for a walk to the Soputan peak – a volcano is located in Minahasa kingdom in the north of Sulawesi Indonesia. This will definitely be a memorable adventure for you.
Whale Shark Sightseeing Spot is number one tourist attraction in gorontalo, You have to visit this place when in Gorontalo. This is only place in Indonesia where you can see and feed the whaleshark very close.
Saronde Island is also great destination in Gorontalo by a decent long white beach around the island. This is a good place to take some sunset pic and playing in the water.
If you want to get a unique underwater photo, let to visit Olele Beach - a great spot for snorkling, where you can swim and snorkle only 5 m away from the beach. This is also a marine sanctuary and located in a bay beside a village and hence the attractions are the marine flora and fauna.
Gorontalo is famous for a lot of interesting underwater activities, which cannot miss diving activities. This is a kind of one stop place for diving where you don't really have to travel far from one site to another with different characteristics of the site. Miguel's Diving Gorontalo or Miguel's Diving Gorontalo will be the place to help you experience the most exciting and safe diving thanks to the support of professional and enthusiastic divers.
Gorontalo is really an attractive island that will surely provide memorable moments for beach-loving tourists. Flights to Gorontalo will give you a full view of the city with the price for Jakarta - Gorontalo is only around USD 258~1076/one-way (excluding taxes and fees).
BOOK NOW to discover and experience the most unforgettable moments in this fascinating island city along with your friends.