Travel information
Favourite destinations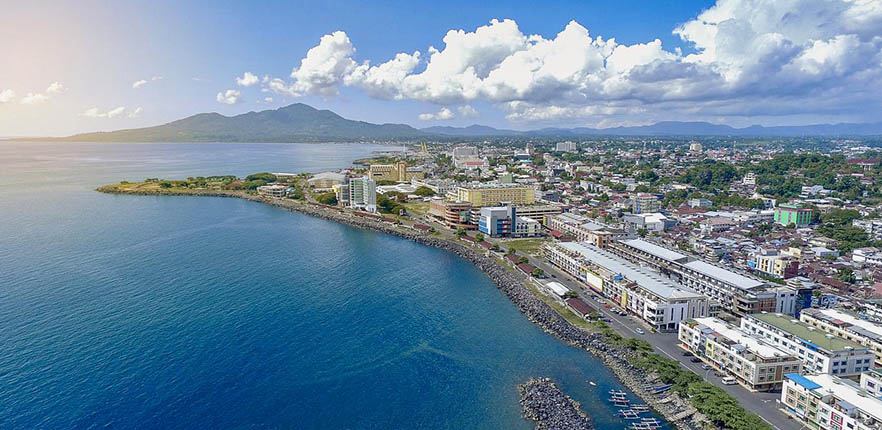 Manado
As the capital of Indonesia's Sulawesi state, Manado is known as the coconut land because the country has 25 million coconut trees. But what makes Manado famous is the paradise of beach enthusiasts with dozens of great places for scuba diving. Not only that, Manado is also the gateway to some of the most magnificent wonders in the province and a lot of wild and diverse cultural heritage.
Visit some of Manado's representative destinations to see that this will be a truly worthy and valuable trip:
If you are a passionate diver, then Manado is definitely a perfect destination for you. In particular, Bunaken is considered one of the top scuba diving destinations in Indonesia. It only takes about half an hour by canoe to arrive at Bunaken Island and divers will be delighted by the huge walls covered with magnificent corals in the clear water! The bottom of Bunaken Island is also incredibly deep, up to 1600 meters. It makes this destination something special!!! Or Manado Tua Island is also an ideal destination for scuba diving and admiring the beautiful coral reefs.
Discovering the night in the dense forest of the Tangkoko Nature Reserve near Bitung is a thrilling experience that requires your courage. But in return, you will see with your own eyes Tarsius, a tiny primate and symbol of fidelity and romance.
Located more than 200km from Manado, Dumoga Bone has almost all of the most beautiful wildlife from hills, mountains to dense forests and rich flora and fauna.
For those who love hiking and mountain climbing, Mount Dua Saudara near Bitung offers the most impressive and challenging scene. Standing at 1,351 meters above sea level, it usually takes about 4 hours to reach the top, this is a challenging walk as climbers sometimes have to wade through mud puddles.
Manado is famous for being extra delicious yet extra spicy. In Manado, the perfect place to look for food is on Pierre Tendean Boulevard or commonly known as the Boulevard Area near the sea.
Another popular area is Wakeke Street known as the Food Travel Street or visit Kalasey Beach to enjoy seafood just caught from the sea in any style. Some dishes that you have to try are: Tinu'tuan, fufu Cakalang or smoked tuna or Babi fore ...
****************************************************************************************************************
You will be comfortable choosing accommodation in the city of Manadoto fit your budget. Most tourists stay in Wenang because this is the center of Manado with the highest concentration of hotels and motels.
The most convenient way to get to Manado is to fly from Jakarta, Surabaya, and Balikpapan to Manado Sam Ratulangi Airport. The price from Jakarto to Manado is only from USD 188/one way; from Surabaya to Manado is only from USD272/one way; from Denpasar to Manado is only from USD304/one way (excluding taxes and fees).
Like most cities in Indonesia, you can get around by Indonesian local transportation such as taxis, angkots, rental cars or ojek.
Manado tourism will surely conquer you by its very own beauty; it comes from beautiful islands with brilliant coral reefs, unique nature reserves or interesting traditional villages. Plan to explore this fascinating city and make sure you get excited just thinking about all the fun you'll soon experience here.