Travel information
Favourite destinations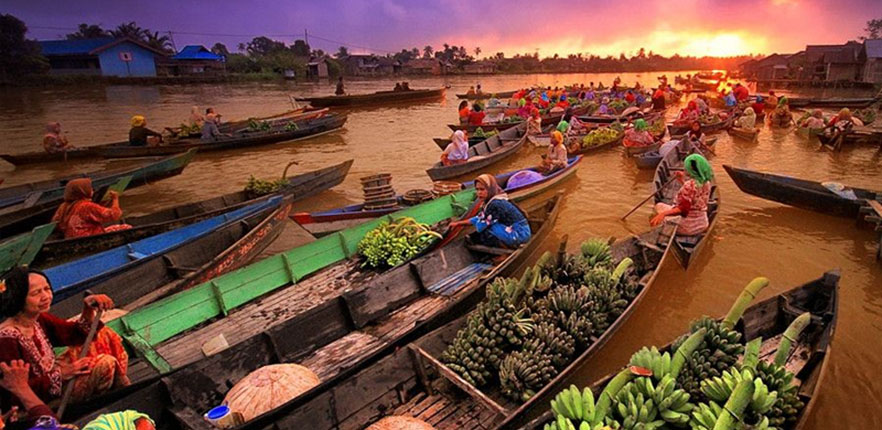 Banjarmasin
Located on a labyrinth of canals with thousands of rives, Banjarmasin is considered the capital and the heart of South Kalimanta province. Not known for its stretching beaches or picturesque waterfalls as Indonesia's other attractive destinations, this city has its own unique charm that makes it become the most ideal place for a trip to to learn about Kalimanta's urban culture.
Famous for its many large and majestic rivers, so images of floating markets where farmers and traders are eager to sell their goods on boats have long been a symbol of this city. In which, Lokbaintan Floating Market is always the most attractive destination for tourists to experience and explore. At the Lok Baintan, you will see many sellers selling fresh products, snacks, or breakfast. Take a chance to sip a cup of tea and satay breakfast, and check if they have some local fruits you could never find it anywhere else in the world. A boat trip on the river at sunrise is also an interesting experience when you can admire the change of landscape along the river; observe new concrete buildings mingling with old wooden shacks and bamboo rafts floating on the river. This will definitely be the most attractive experience in your trip.
Banjarmasin also has a lot of parks to visit. It is the Siring Park located along Jenderal Sudirman Road and KaptenTendean Road offers a picturesque landscape designed to face the river, where you can also observe Banjarese activities on their traditional Jukung boats.
Or Mascot Park is where you can see the two mascots of Banjarmasin: The monkeys swinging and the musk trees. If you want to explore Kalimanta's history and culture, this is your destination.
The Wasaka Museum is home to historical collections in the people's war against Dutch colonialism.
Kembang Island is not too far from Muara Kuin floating market where you can see the unique proboscis monkeys or Sultan Suriansyah Mosque, the oldest mosque in South Kalimantan with a unique combination between Banjar's Pre-Islamic architecture and Demak Mosque in Java.
Try to understand the meaning of the name Sabilal Muhtadin - Banjarmasin's largest Mosque located right in the city center and decorated with beautiful calligraphy.
When visiting Banjarmasin, do not miss the opportunity to enjoy some of the city's finest dishes and the wonderful view of Martapura at Martapura Riverside Food Center. This lovely little place located at the Pos Street connecting Jalan Sudirman with Jalan Hasanudin offers the city's best menus like Soto banjar, Laksa, Golden Rice, and a variety of delicious dishes.
Contrary to the bustle of other cities, Banjarmasin city is really the ideal place for family trips, where your family will be able to explore interesting and unique history, culture and life here. Some of the best rated hotels in this city are the Golden Tulip Galaxy Banjarmasin; Rattan Inn Hotel, Aston Banua Hotel,... are located in strategic locations near the commercial center and tourist spots with extremely good facilities and services.
You can book a flight from Jakarta to Banjarmasin then hire a motorbike taxi, a lam car or a taxi to your hotel. The flight ticket from Jakarta to Banjarmasin is only from USD 107 and you will set your foot to this city quickly.