Travel information
Favourite destinations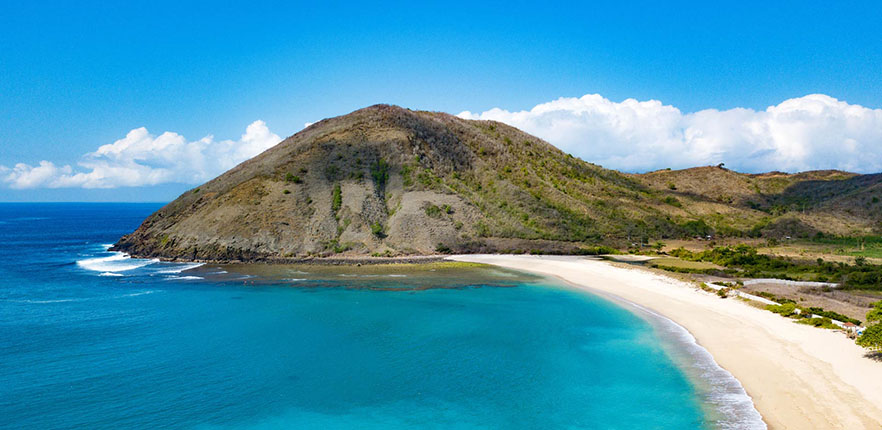 Lombok
If you only visited Bali Island when come to Indonesia, you will surely regret it. Besides Bali, Lombok Island - a hidden "paradise" with unspoiled natural scenery, romantic beach,... is also an ideal destination? Dubbed as the "sister island" and the equally beautiful neighbor of Bali, the Lombok island located between the Pacific and Indian Ocean belts, possesses countless beautiful landscapes and interesting things that visitors must fall in love.
Kuta - This comfortable surfing town is the perfect introduction to Lombok with its clear beaches and pristine bays. If you are a natural lover, spend a day of your journey to enjoy the beauty of the beach and the blue waters like Mawun or Selong.
Pantai Tanjung Aan is considered the most beautiful beach in Kuta with a view of white sand, green palm trees and turquoise water. Whether you love swimming, surfing, snorkeling or simply lying on the beach, Tanjung Aan is a great place for you.
With a 10km coastline, Senggigi has become the most popular tourist attraction. This is really an ideal place to immerse yourself in the turquoise sea.
Sindang Gila and Tiu Kelep waterfalls are also popular destinations in Lombok that you should try once. Sindang Gila and Tiu Kelep are two waterfalls located on the slopes of Rinjani Mountain, with the natural beauty of the rough and moss-covered cliffs, cool water and pristine natural scenery ... that really attract not only for foreign tourists but also local people.
The journey to discover Rinigate volcano is also interesting in Lombok. A picturesque scene with impressive views of Bali, Gilis, and beyond will appear infront of your eyes on a beautiful day when watching the sunrise on the Rinigate.
If you want to learn about the ancient history and culture of the Indonesian, Pura Lingsar - the unique sacred temple of Lombok Island will give you interesting cultural and historical knowledge.
When moving around the island you will find many traditional craft villages. The most famous are Masbagik, Banyumulek and Penujak pottery villages or Sukarare, Puyung, Pringgasela weaving villages,...
Some of the cuisines you must try when arriving in Lombok are spicy grilled chicken of Ayam Taliwang, Sate Rembiga - sweet, salty, spicy beef salad from the region and Kangkung - one of the vegetarian dishes that you have to try.
And there are many more interesting destinations can not be counted out when visiting the Lombok island as watching the sunset at Bukit Merese hill, bathing at the Tiu Kelep waterfall or visiting to Gilis - a trio of small islands just off the coast of Lombok.
********************************************************************************************************************
Some notes for your trip!!!
- It's easy to fly from Jakarta to Lombok with just flight tickets only from USD 99/one-way excluding taxes and fees.
- Lombok's facilities and infrastructure are relatively basic, not as modern as Bali so taxi or public phone service is available.
- It is very difficult to see cars here, you should use a motorbike or horse to move to the attractions.
- The dry season on the island starts from June to September, the remaining time is slightly wet so you should consider the suitable time to travel here.